If you have been asking "How do heat lamps work?" read on as DTC explores why you should choose short wave infrared heat lamps as a cost-saving method for rapid curing and drying of various coatings.
It is no wonder the technology is so popular in repair bodyshops. The infrared heat lamps are perfect for speeding up the drying process after base coats, clear coats, filling materials, paints, primers, and putties have been applied.
What are heat lamps?
Heat lamps (also sometimes called infrared emitters) operate using infrared and are electrically powered with a plug and cable. Typically, tripod or stand mounted they are mobile and provide an effective solution for rapid paint curing. Using infrared technology, they enable paint drying and curing in just a few minutes, using short wave infrared technology.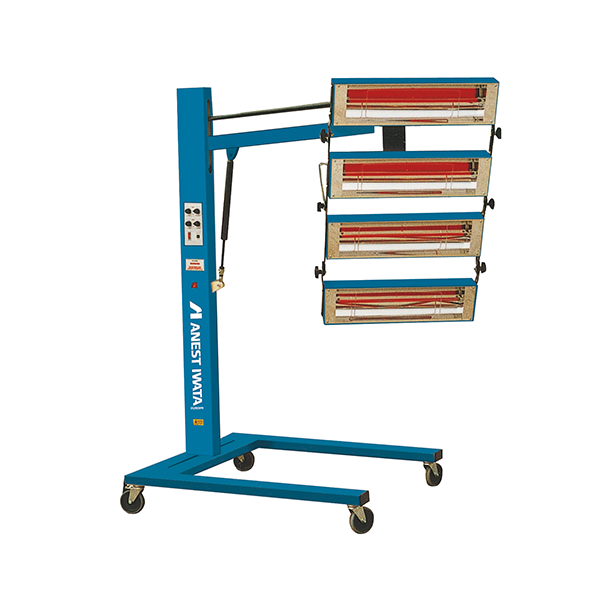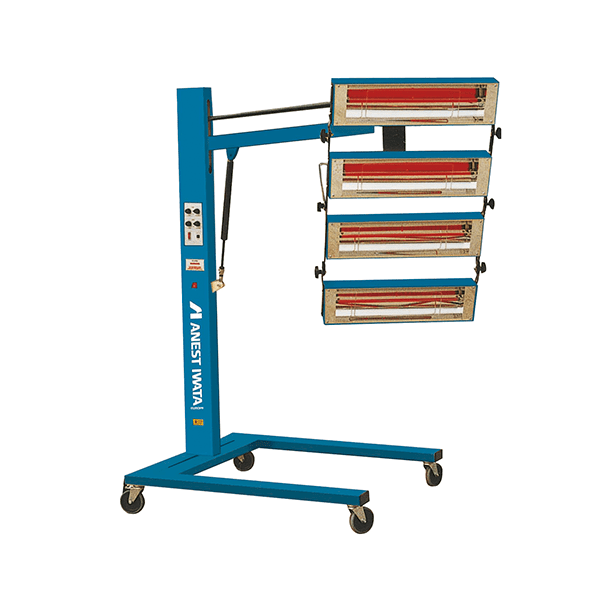 How do heat lamps work?
Heat lamps (or infrared heaters) use electromagnetic radiation to transfer energy from the lamp to the body of the car/van (in the case of bodyshops). No contact between the lamp and the vehicle being treated is needed for the energy transfer.
Why are they invaluable for drying paint in bodyshops?
Using short wave infrared as a technology, heat lamps cure paints, primers, and body fillers in around ten minutes compared to forty five minutes in a bodyshop booth/oven. From a time, perspective, infrared heat lamps can be compared to a microwave whereas a booth/oven is comparable to a conventional kitchen oven.
Although there is a definite place for bodyshop ovens there are numerous benefits to heat lamps which are summarised below:
Air quality – heat lamps generate no emissions (gas, fumes, and general pollution), they are also odourless and condensation-free (as heat lamps produce a totally dry heat)
Debris free – the dramatically-reduced airflow massively reduces dust and debris contaminating the body finishing
Focused repairs – a heat lamp is better for section and spot repairs with the lamp just focusing on a specific area
Mobility – the mobility of infrared lamps is a major bonus:
Enabling efficient use of body shop space
Work could be completed offsite if necessary
Reduced costs – lower energy bills (through reduced repair times) and lower upfront costs compared to an oven
Small jobs – spray booths are not needed for smaller repair jobs and
Time savings – curing times for all materials are radically reduced
Buy the SEALEY 1.5KW heat lamp & stand for your bodyshop from DTC
Solutions from DTC
As you will see when you visit the DTC heat lamps page at https://www.dtc-uk.com/paint-heat-lamps, we have a range available with different specifications and budgets. We have carefully sourced our heat lamps from leading manufacturers Anest Iwata and Sealey.
For our wider range of solutions for automotive bodyshops please visit – https://www.dtc-uk.com/body-shop-tools-and-supplies.
Contacting DTC
Hopefully, we have now answered "how do heat lamps work?" and it is clear to you the benefits that heat lamps bring to bodyshops. Why not browse and shop through our heat lamp range and choose a perfect solution? DTC are always available for advice on selecting the right model for you and is here for answering questions, clarifications, and advice.
For advice, guidance, and support about our heat lamp range, why not contact us today? Phone DTC today on 023 8025 1100. Send emails to sales@dtc-uk.com, or through our structured contact form.