Welcome to our comprehensive guide on selecting the right U-Pol filler products for the automotive industry. In this article, we will explore the range of high-quality U-Pol filler options available and how they can benefit your automotive repair projects. Whether you are a professional in the automotive industry or a DIY mechanic, you will find these products invaluable.
About U-Pol
U-POL is a worldwide leading automotive aftermarket brand. They specialise in a wide range of high-quality products, which include fillers, coatings, sealants, and other automotive products. Suited to both industrial and home users, U-Pol is a well-respected brand. Here we focus on their range of specialist filler products.
Advantages of U-Pol body filler products
U-Pol body filler products offer a multitude of advantages that make them the preferred choice for automotive professionals and enthusiasts alike. These advantages encompass ease of use, versatility, and the delivery of consistently high-quality results.
Ease of use
Think about U-Pol filler and think about ease of use. Designed with user-friendliness in mind, U-Pol filler is convenient for both industry professionals and home mechanics. Easy to apply and with a smooth consistency, this filler comes with no learning curve and enables quick and efficient body filling repairs.
Efficiency in repairs
Streamline your bodyshop's repair processes with U-Pol's filler products. We find that customers keep buying these fillers for their consistent quality, combined with labour savings. Efficiency gains from the rapid curing times and reliability of bonding overall contribute to higher efficiency jobs with happy customers.
High-quality results
U-Pol has strict and consistent product quality standards, which help in providing exceptional results for minor or larger repairs. With exceptional adhesion qualities, use this filler for repairs which are both durable and long-lasting. The U-Pol is range is perfect for applications including filling cracks, mending metal pipes, filling holes and repairing holes on metal vehicle bodies, repairing damaged edges, and much more!
Superior finishes
Choose U-Pol for fillers delivering a superior finish. The product range provides high compatibility with paints and coatings and ensures a seamless finish to bodywork. The finish delivered is both aesthetically pleasing but is also useful for applying before selling a vehicle, as the repairs will increase the resale value.
Versatility
U-Pol's extensive product range covers various types of repair needs, from deep fill repairs to fine finishing and special surface repairs. These products are compatible with a wide range of automotive substrates, allowing for versatile applications. Whether it is addressing minor imperfections or major structural repairs, U-Pol fillers offer the versatility required to tackle diverse automotive projects.
U-Pol filler products available from DTC
Choose DTC as your preferred provider of U-Pol filler products. We have itemised our range into five different categories, which are summarised below:
Deep fill repair
U-Pol's deep fill repair products are high-quality, deep-fill epoxy filler for automotive repairs. This filler is designed to fill large voids and deep imperfections in bodywork. Products include:
Fine finishing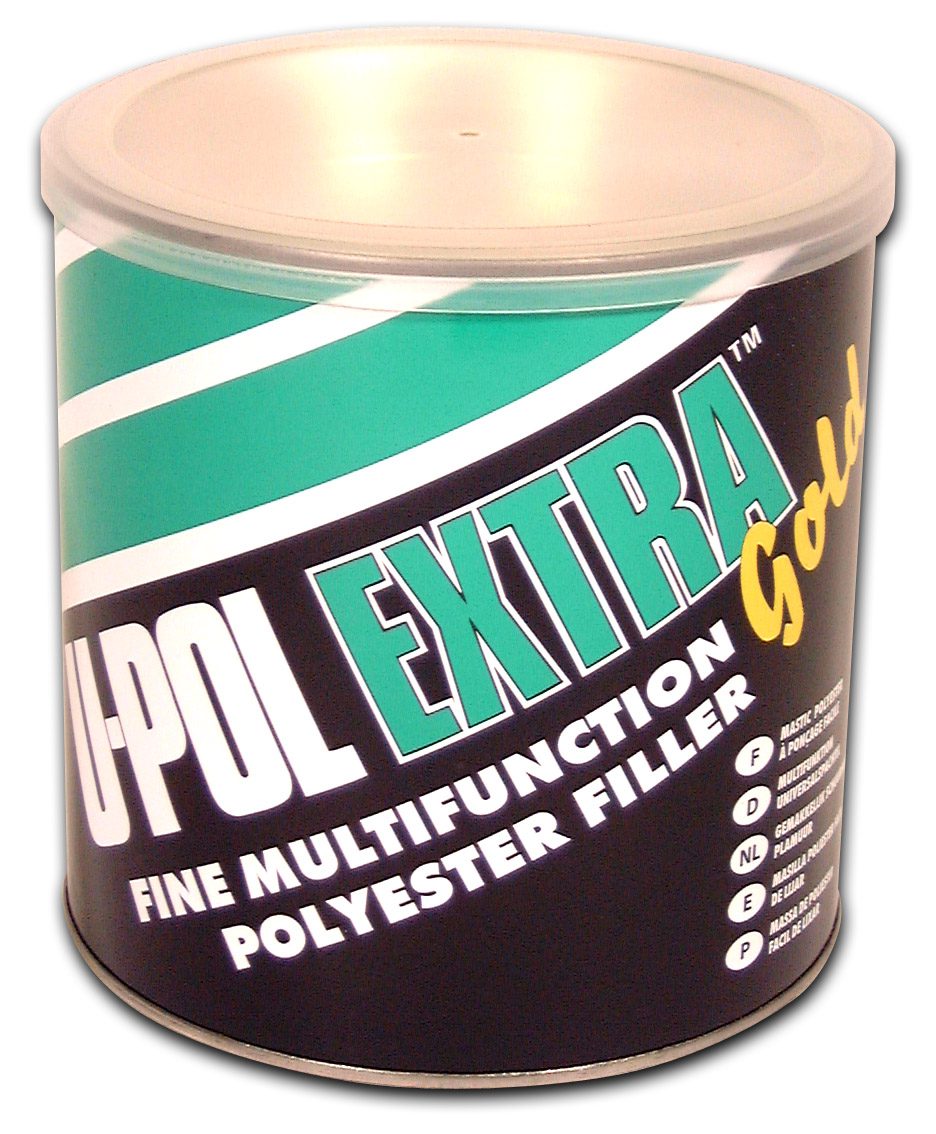 Dolphin glaze if an example of a fine finishing filler from U-Pol
Medium depth repair
U-Pol's medium depth repair products provide reliable solutions for automotive body repairs. Buy these to ensure optimal adhesion and a professional finish for bodywork repairs of a medium depth. Products include:
Special surface repairs
These are specialised products delivering high-quality results for unique applications on materials such as fibreglass, metal,
Related filler products
Choose from the range of products, which help in the filling process. Products include:
Contact DTC
DTC have all the U-Pol body filler products you could possibly need for a wide range of automotive body filling tasks. If you need advice and guidance about which is the best product to buy for your needs, please contact us using any of these methods: