The management of processes and workflows is often complex. Here we introduce Kanban boards, which are a visual way to manage process flows in your workplace. Read on as we explore both physical and digital Kanban boards and how they can transform your workplace.
What is a Kanban board?
A Kanban board is an effective way to visually track workflow as it progresses through various process stages. This tool is available both physically (using Kanban cards) or online (various software platforms) and normally consists of three or more columns, each one of which represents a workflow stage. In the physical version, the tasks within each stage are represented by a card or sticky note, each card advances from column to column and visually represents workflow progression.
There are many ways, in which a basic Kanban board structure can be used, their versatility is their strength and there is almost an infinite number of possible uses. A strength of the Kanban boards is the way that they visualise workflow and especially highlight potential bottlenecks to improve overall workflow efficiency. Where workflow issues are found, the Kanban board can simply be adjusted to overcome the challenge. These are some of the reasons that a Kanban board is popular with Project Managers and actively used in agile project management and lean manufacturing.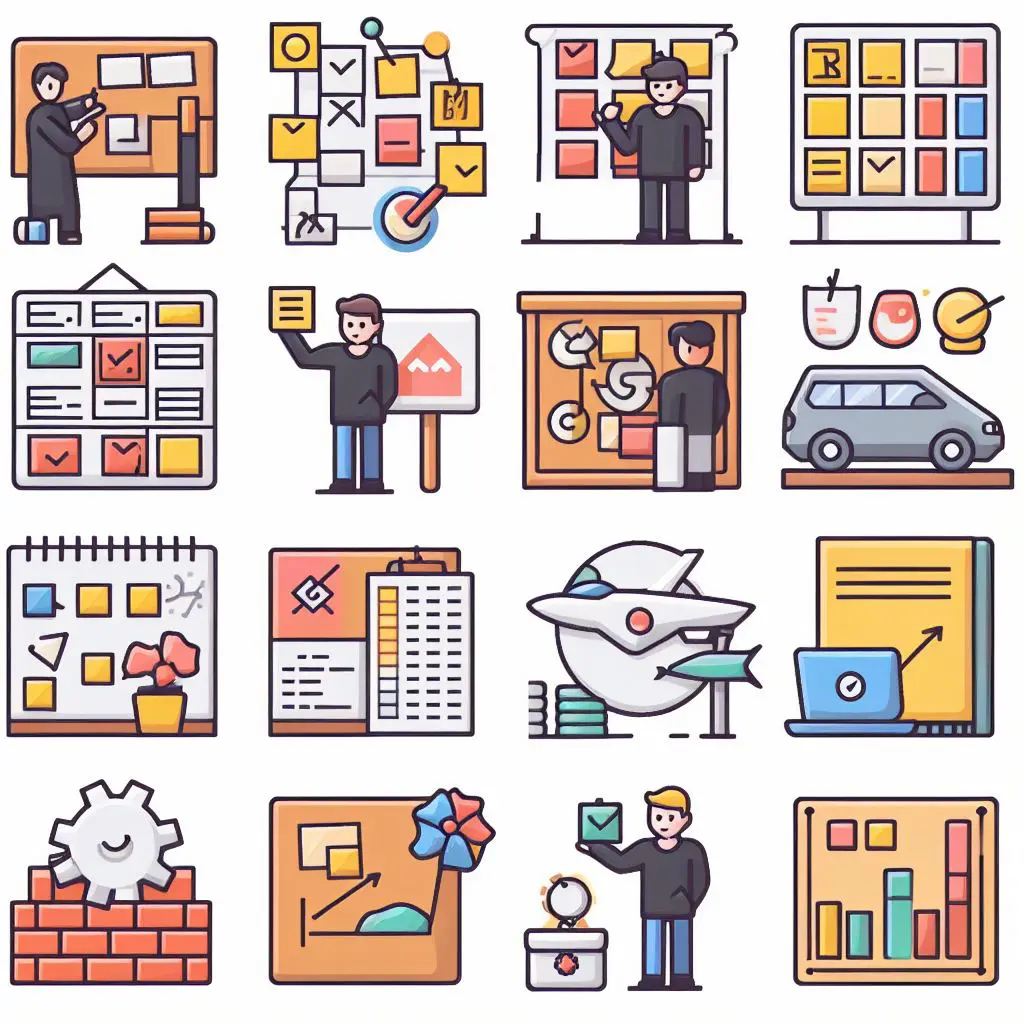 Why not use a Kanban board in your workplace?
Name origin of Kanban
"Kanban" is derived from two Japanese terms: "Kan," meaning "sign," and "Ban," signifying "board," combining to form "Kanban," which translates to "sign board."
The power of Kanban boards?
Choose Kanban boards as a powerful organisational tool that enhances workflow productivity and collaboration. Albeit simple in concept, they take time to master but are proven to improve teamwork and bring efficiencies to complex workflows.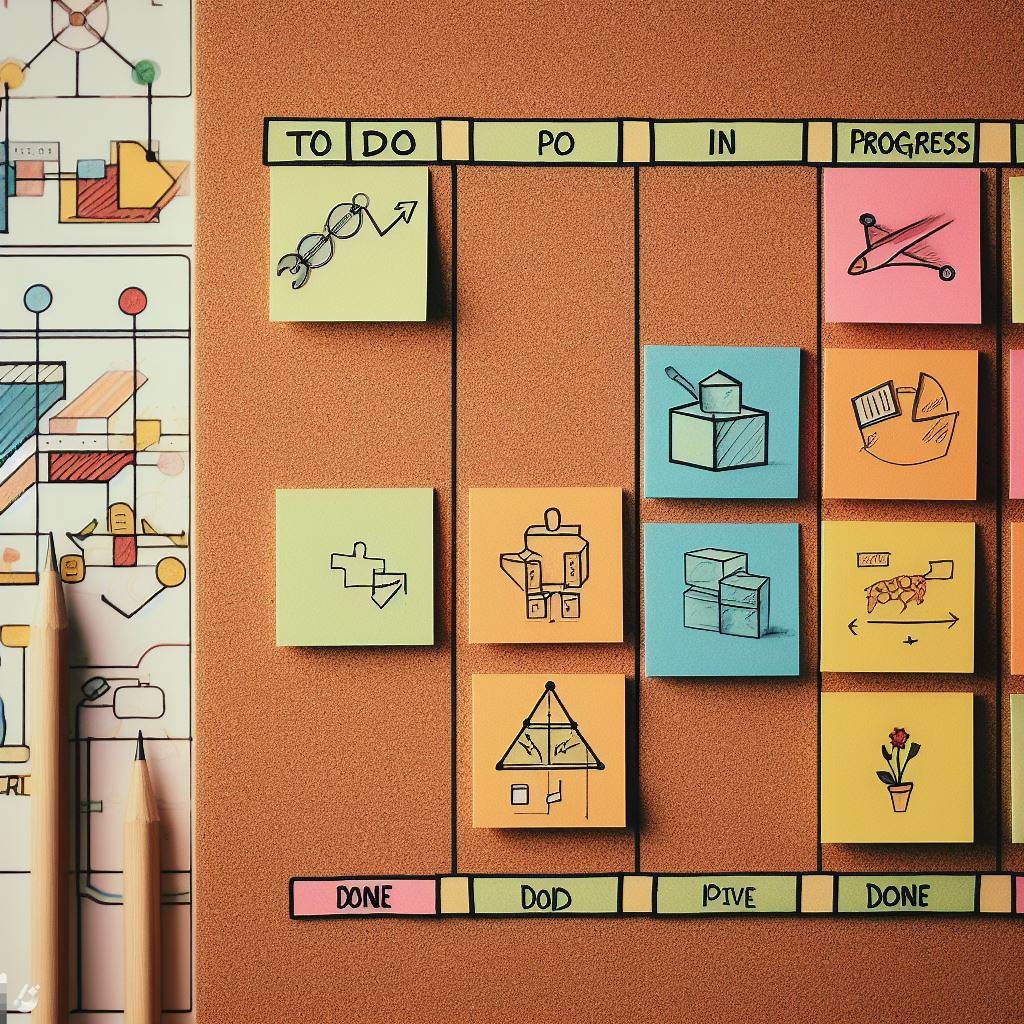 An example of a physical Kanban board
If you think visually, you will love Kanban boards. As well as highlighting bottlenecks, issues, and challenges they also bring transparency to a team – by bringing workflow progression into the open. Team member's work completed is open and other members can adjust their tasks in line with progress. This reactiveness leads to continuous improvement in overall process efficiency.
It is proven that Kanban boards encourage improved communication and collaboration among team members and other project teams. The adage says, "A problem shared is a problem halved", this can often prove true with Kanban where team members become allied and because of the visual nature often suggest solutions and remedies to aid each other's work tasks.
Adaptability is another highly prized attribute. Agile teams can tailor and customise a workflow to their preferred Kanban method and not be "stuck" with an initial flow that is infeasible in practice. This ability to change allows for dynamic project and process management, which is important in responding to changing project requirements and priorities.
Kanban board typical features
Functionality will vary depending on whether a physical or online Kanban board is used, but listed below are some typical features to expect:
Access control – controls can be put in place to manage who can view or edit the Kanban board
Attachment options – attach files, images and links in the digital Kanban board version or Kanban cards and sticky notes, etc., in the physical version
Colour coding – this is extensively used to code different task types and priorities
Commenting feature – as with tools like Microsoft Word or Facebook, team members can leave comments and feedback wherever they require within the Kanban process flow
Customisable layouts – users can customise the Kanban board work to their exact requirements, giving an "infinite" number of possibilities to manage project workflows
Drag-and-drop interface – for digital Kanban boards the ability to "drag and drop" is heavily valued, this allows users to move tasks from column to column using a drag-and-drop action
Due dates and team reminders – the inbuilt calendar adds deadlines for tracking and helpful reminders to streamline task management
Integration with applications – for digital Kanban boards (depending on the chosen platform) there will be application integration, so that workflow can be integrated with email, user calendars, PM software, CRM tools, etc.,
Real-time updates – again, in digital versions, the Kanban board will reflect updates instantly, including comments, completed tasks, etc.,
Task cards – in manual versions, task cards (and sticky notes) are used extensively to visually represent tasks such as assignees, descriptions, deadlines, etc.,
Visual columns – within the Kanban board, each column represents a different stage of the overall workflow. This visual separation is ideal for team members in managing, coordinating, and collaborating on entire stages of workflow
WIP management and limits – the tool can highlight team member overloading and limit work in progress through the prompt reassignment of tasks and/or maybe even new recruitment
Three leading Kanban software products
When considering Kanban software, in our opinion, Asana, Jira, and Trello are the top software products to consider. Each are well-known names around the world, with huge user bases and bring unique features and functionalities to streamline and manage business workflows smoothly and visually. For small Kanban teams to large enterprise-level projects, any of these tools can be used with confidence.
Asana
Among the many tools available for project management that can handle the whole project workflow in one location is Asana. It can assist you in replacing the multiple spreadsheets, sticky notes, and emails that clutter your desk with a far more complete solution.
Asana's most widely used view is the Kanban View. This view is comparable to a board that has been arranged into columns for cards. The columns show the steps needed to finish each of your opportunities or projects, and the cards show your opportunities or projects. It can be used to keep track of daily tasks as well as the project's overall goals and advancement.
Use Kanban software to visualise and manage workflows
Jira
Jira, developed by Atlassian, stands out as a cutting-edge issue-tracking, project & workflow management tool. It is steeped in the Kanban methodology, making it a top choice for agile project development and efficient bug tracking. Jira's take on the Kanban board represents a digital platform that simplifies navigating through work processes, minimising hassle, and complexity (wherever possible!).
The design of Jira's Kanban boards is intuitive, utilising columns and cards. This structure is rapidly adopted by service teams, enabling them to streamline their workflow and enhance their productivity. With Jira, project planning becomes simplified. Users enter their data, and the platform handles the rest, saving time and increasing efficiency.
Trello
Trello is all about simplicity and visual clarity in the world of Kanban team working. It is incredibly user-friendly and perfect for beginners and experts alike. With its Kanban boards, lists, and cards, Trello makes task and project organisation straightforward and efficient. The platform encourages collaboration and enables team members to comment, attach files, and create checklists directly on the cards.
The adaptability of Trello is impressive. You can tailor the Kanban boards work for anything from complex project management to straightforward personal tasks. Its compatibility with various external apps further boosts its functionality. Plus, Trello's mobile app means you can keep track of your tasks no matter where you are. It's an ideal tool for those who value a simple yet powerful approach to Kanban.
Other software to mention
Apart from Asana, Jira, and Trello, there are numerous other credible Kanban software options available. Here is a list of ten other products (in alphabetical order), that enable the use of Kanban – Airtable, ClickUp, Kanban Tool, LeanKit, MeisterTask, Monday.com, Smartsheet, Taiga, TeamGantt, and Wrike.
Seven reasons Kanban is a powerful tool for managing workflows
Please do not underestimate the power of the Kandan system. If you need smooth and effective workflow management in your organisation this tool is simple and effective. Here are seven reasons to consider implementing Kanban:
Continuous improvement – improve efficiency, staff morale, customer satisfaction and the bottom line through CPI with Kanban. The software enables the fine-tuning of production process flows to enhance efficiency
Enhanced focus – why have lots of work in progress? Instead, you can restrict current activity to completing certain tasks and workflows and not give teams too much to think about
Flexibility – use Kanban in many work environments and across many industries. Kanban boards flourish in creative agencies, education, healthcare, manufacturing, retail, and software development teams. In addition, industries DTC specialises in such as automotive, composite, and marine all flourish with this universally adopted software
Reduced overload – balance workloads through the visual tracking of tasks. Obvious bottlenecks can easily be identified and redistributed. This is great for staff morale as if they are overloaded, this will easily be visible and can be managed
Team collaboration – massively improve collaboration, teamwork and discussions with this easy-to-use tool that tends to engender working together, with a shared set of information and visual cues
Transparency – we mentioned this earlier, but it is certainly worth mentioning again, the benefit of transparency. Process flows, dates, and deadlines, are all in the open and enable team members to operate with trust as everybody is informed
Visual workflow – we cannot emphasise enough the benefits of the visualisation of workflow. With Kanban boards being visual they provide an immediate, clear, and up-to-date view of project workflow status. The immediate viewing of status enables team members to make rapid decision-making and process flow adjustments at will, and speed!
Conclusion
Kanban boards excel in visually tracking workflows, are adaptable for both physical and digital realms, and are integral to agile project management and lean manufacturing. These Kanban boards visually represent each task's progress through various stages, effectively highlighting potential bottlenecks and allowing for easy Kanban workflow adjustments.
Kanban boards typically feature access control, customisable layouts, real-time updates, and visual columns, enhancing teamwork and transparency. Among the leading Kanban software, Asana, Jira, and Trello offer unique functionalities for diverse project needs.
Overall, modern Kanban boards streamline project management by providing a clear, up-to-date view of workflow, fostering efficient decision-making and collaboration.
How to contact us
We have been delighted to explain "What is a kanban board?" and hope you have found this post enlightening about the Kanban method. We recommend Kanban software for implementation within your business to enhance your processes and workflow. Why not speak to DTC about how our DTC Hub can help your organisation streamline internal processes such as procurement, stock control, and product usage?
Contact us with any enquiries in the following ways: