[vc_row][vc_column][vc_single_image image="1607″ img_size="full" alignment="center"][/vc_column][/vc_row][vc_row][vc_column width="1/6″][/vc_column][vc_column width="2/3″][vc_column_text]Brad is an accomplished surfer and well known throughout the surfing world for his creative surfboard designs and innovative resin recycling. As UK Territory Manager for Surf Hardware Intl, Brad is fully in touch with the industry and regularly visits the top surfboard manufacturers throughout the UK to discuss the latest technology in fins, boards and other product innovations.
I caught up with Brad to gain insight into this £3B industry where composites play a huge role.
Where did this all begin, has surfing always been a lifelong passion?
I grew up in South Africa and got the surfing bug at the age of 10. It wasn't long before I dropped all other sports to focus on surfing.
After snapping a board in my teens, I spent a day reshaping the broken board into a 3ft mini board and gave it to a guy at a factory to glass for me. They even made little two-inch fins for it! I sold it to a local surf shop who branded it with their logo and hung it in store. This was the moment the seed was sown and I knew I wanted to shape boards.
I often see photos from your trips abroad on Instagram, where is your favourite place to surf?
I have been very fortunate to travel a lot, including places like Indonesia, Morocco, South Africa, Costa Rica, Australia and much of Europe. However my favourite wave has got to be Sultans in the Maldives (North Male Atoll). It's such a beautiful spot.
When did you start building custom boards for people?
I didn't become a true shaper until I was about 25 and my mentor Brian Page taught me everything I needed to know. Brian is a close friend who has been shaping boards since the 80s for the growing South Coast surf scene. He was happy to share his knowledge which was very helpful.
Are all your boards made to order?
Yes, everything is custom. Even when I build boards for myself, it's always a new concept, new materials or a unique resin tint.
How involved are your customers in their specification? Do many surfers actually understand the different factors and how they affect performance?
It varies, some know exactly what they're after, most people want at least some guidance though. I always try to find out as much as I can about their ability, local surf spot and what kind of boards they have enjoyed riding. It all helps to gain insight into what they will get on well with.
It's quite a unique relationship between a shaper and surfer isn't it? How does it work?
Yes, even surfers of a professional standard will go into great detail about what they like and don't like about a board. It's also essential to listen to feedback in order to grow as a shaper.
It's these conversations and the ability to translate a riders wishes into design concepts that makes shaping so fascinating. With each board you build together, you're another step along in this evolving artistic relationship. Together we're after a common goal.
What's your favourite board to shape? What do you specialise in?
I like doing anything which is out of the ordinary, things like unique bottom contours are particularly interesting right now.
White boards can get boring so I love adding artwork or experimenting with unique resin tints. I want to exercise my creativity and it adds an extra element to the process.
What do you think is the secret to building a high performance board?
It helps to be a reasonable surfer so you can understand and feel the difference that design tweaks will make. I've learned a lot from 'trial and error '. Understanding your mistakes gives you so much knowledge and insight which allows you to fine tune your shapes.
Who do you think are the most influential shapers right now?
Dane Hantz at Vulcan surfboards and Daniel 'Tomo' Thomson are really influential. They're both progressive shapers who are pushing the boundaries in shapes and technology. Dennis Jarvis at Spyder Surf recently inspired me to work on a fireball channel concept which i'm really excited about!
What's next in shapes and materials?
The trend at the moment is twin fins and channel bottoms, but also experimentation with materials. There are new blends of epoxy arriving into the market with a lot of interest in eco epoxy and recycled blanks. These materials were historically poor quality but these days are some of the best available!
The use of Carbon fibre is becoming more common in modern high performance boards to enhance flex and strength, often replacing the traditional wooden stringer. It's also used in big wave boards and longboards to add durability.
Carbon can be used in different layups with fibreglass to offer varying strength to weight ratios, or to customise the flex pattern. Usually the carbon fibre is set simultaneously with the other materials for a complete sandwiched finish. This can be challenging but when done properly actually speeds up the production process.
How do you feel about foils on surfboard ? Tempted to give it a go?
I actually built a custom foilboard for a friend to use with a foil. He's not let me have a go on it yet though!
In an empty lineup it's ok, but there's no place for it in popular surf breaks like Fistral though.
The technology is best suited for kitesurfing and windsurfing when windy conditions create a choppy surface. The foils lifts you over the chop for a perfectly smoothly ride.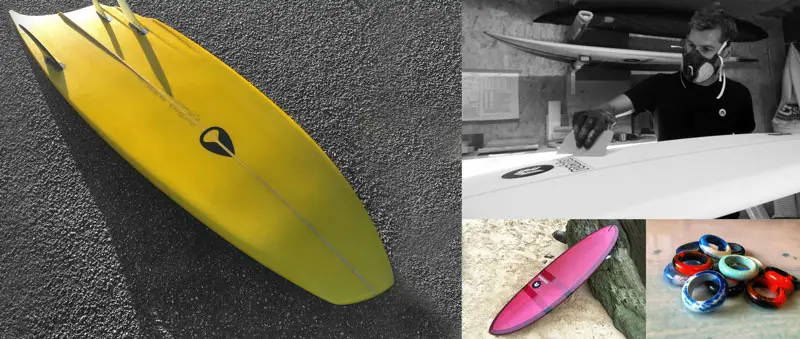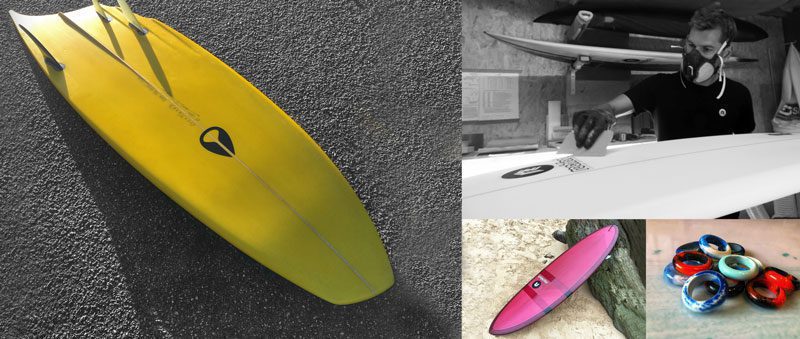 You must be one of the top guys in the country to talk fins with! What difference can fins make to performance and what materials are being used?
[laughs], not sure about that! But yeah, in my role at Surf Hardware International I get to support the top shapers in the business with equipment, tooling and supply of all their FCS fins and plugs. It's great to work with the likes of Nigel Semmens, Ben 'Skindog' Skinner and an array of highly talented craftsmen who over the years have become friends.
Most surfers don't realise that fins account for 30% of their boards performance. The wrong set of fins can turn a magic board into a dog! So yes, they are a crucial element.
If fins are too flexible for example, you won't get any response out of your turns. Plastic fins are a classic example of this. Good fibreglass fins on the other hand will give you far more power and control through their fast 'snappy' flex.
Carbon fibre is also found in some high-end fins, aimed mainly at fast, powerful surfers who need even quicker reaction times. I can see epoxy options replacing this though, epoxy is stiffer and lighter than polyester but still offers enough flex.
How are shapers reducing their environmental impact and will we see eco boards in the market anytime soon?
The pure nature of surfers and their playground means they really care about the environment. The demand is definitely there and we're at the stage where things are actually happening.
There is already advances in material technology coming through such as high quality foam blanks made from recycled polystyrene and bio-based resins such as Super Sap. It's something I feel passionate about and will be investing in.
At my workshop I already recycle my waste resin and fibreglass into usable items such as jewellery and tables.
Find out more about Rochfort Custom Surfboards.[/vc_column_text][vc_single_image image="1609″ img_size="full" alignment="center"][/vc_column][vc_column width="1/6″][/vc_column][/vc_row]