Looking For Your Next DeVilbiss Spray Gun But Don't Know Where To Start? Look No Further, These Are The Top 3 DeVilbiss Models On The Market In Our Opinion
DeVilbiss are a company that has amassed a formidable reputation over the years in the finishing industries. Their products are trusted and relied upon by countless professionals in the finishing industries all over the world. Their brand has become synonymous with quality, reliability, and affordability. If you're looking into new options for spray guns be sure to take a look at our defininitive Anest Iwata spray gun buying guide.
DeVilbiss has a reasonably large selection of spray guns on the market compared to other spray gun manufacturers. Deciding which one is going to be right for you can be a little tricky at times. They all look brilliant, and we know most people reading this would love to own them all – but for most of us, that's not really going to be an option.
To make life a little bit easier for you, we have compiled a list of what we think are the top 3 DeVilbiss spray guns on the market. Anyone of the guns on this page is a winner in our eyes. We highly doubt you will regret purchasing any of them.
Let's get started.
DeVilbiss GTI Pro Spray Gun
This highly engineered gun represents the pinnacle of what DeVilbiss has to offer professionals in the finishing industries. It's been painstakingly designed on the back of the many years of experience DeVilbiss has. In our opinion, the GTI Pro is one of the finest spray guns in this price bracket.
The design of the GTI Pro is the first thing many people notice when they first lay their eyes on it. The stunning burnt metallic gold coloration makes it look as good as the projects you will be painting with it.
However, the GTI Pro is not just a pretty face. DeVilbiss knows that many professionals in the finishing industries will be putting in long hours with their products on a regular basis. To make your life easier, the GTI Pro has been ergonomically designed to perfection. It's a stable, balanced, and reasonably lightweight product that will allow you to spray longer, and get the job done quicker, before fatigue sets in.
Adaptability is the name of the game with this spray gun. Modern-day professionals in the finishing industries will regularly work with various different paint types that have different viscosities. To ensure maximum compatibility DeVilbiss have invested a huge amount of resources into the production of their fluid tips. Their modern, and almost revolutionary design allow for a high precision, and reliable spray – regardless of viscosity.
For maximum versatility, the GTI Pro (and the GTI Pro Lite that is number 2 on this list) are available in three different air cap variations. This allows you to ensure that you can get a spray gun that is perfect for your needs.
These air cap variations are:
TE-10
This is generally seen as the "jack of all trades" of the three air cap variants, however, it's perfect for solvents. But as it is a bit of an all-rounder, it's also comfortable when being used with water-based and/or lacquer applications.
If you are planning on working with a wide variety of different paint types, this is the cap for you. The TE-10 has a very high transfer efficiency, but it's not HLVP. (The TE-10 is HLVP compliant, but you will notice that the spray pattern is a little bit more elliptical than other caps.)
TE-20
If you are looking for something to specialise in lacquer or fast flow gloss applications, the TE-20 should be at the top of your list. It's not as much of an all-rounder as the TE-10. But this could be a positive or a negative depending upon your requirements.
It's almost unbeatable when being used for gloss and clear coat applications. This is due to its narrower fan spray pattern. The TE-20 is right at home when used with a "wetter" application style.
HV-30
While both the TE-10 and the TE-20 have an excellent high transfer efficiency rating, there is no beating an HVLP system. So if you can't do without the unbeatable transfer efficiency that HVLP provides, the HV-30 is the cap for you. Again it's less of an all-rounder than the TE-10, but it's perfectly suited to waterborne basecoat applications.
DeVilbiss GTI Pro Lite Spray Gun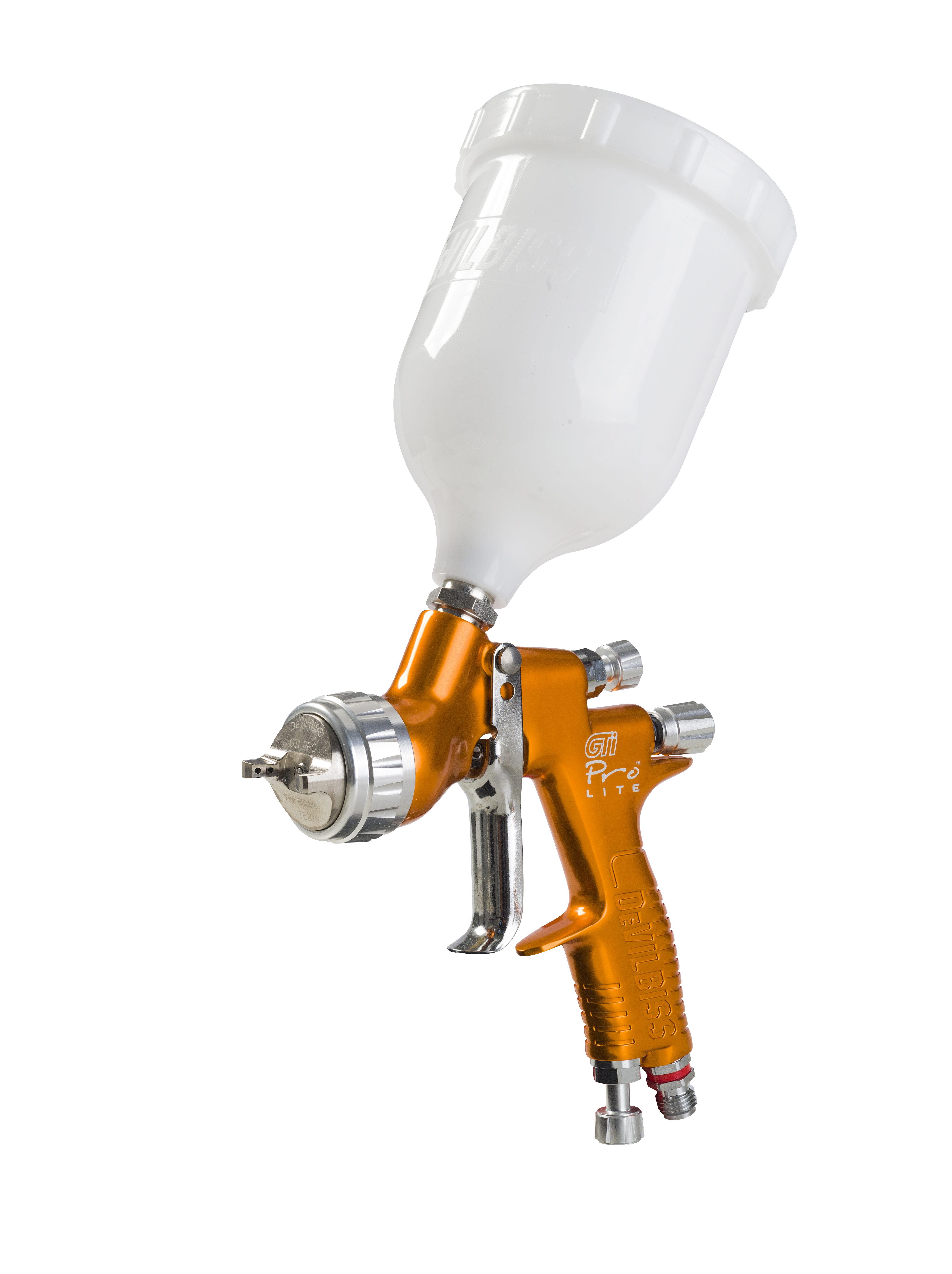 Upon first glance, the Pro Lite and the GTI Pro are almost indistinguishable from one another. They are both made from the same drop forged aluminium and are both the same stunning burnt gold colour. However, once you start to look a little closer, the GTI Pro Lite has some significant differences to the GTI Pro that may make it more suited to your needs.
(Note: As we mentioned just a moment ago, the GTI Pro Lite is compatible with the three cap variations we discussed above for the GTI Pro. This means you get the same excellent performance, regardless of the GTI version you choose.)
The DeVilbiss GTI Pro Lite is all about airflow, there are few guns on the market that can match its evenness and reliability. Throughout the entire gun, there are high capacity airflow passages that make use of DeVilbiss's free-breathing technology. These highly advanced passages are combined with a coaxial linear valve which allows totally unrestricted and incredibly even airflow throughout the entire gun.
This powerful combination works hand in hand with the three air caps we mentioned above. This produces excellent atomisation and a highly uniform distribution from edge to edge of the spray pattern.
With all professional grade spray guns, maintenance is essential if you want to keep your tools working harder for longer. The GTI Pro Lite is one of the quickest, and easiest spray guns to maintain on the market. This means you can spend less time worrying about your tools and get the job done in record time.
DeVilbiss SRI Pro Lite Spray Gun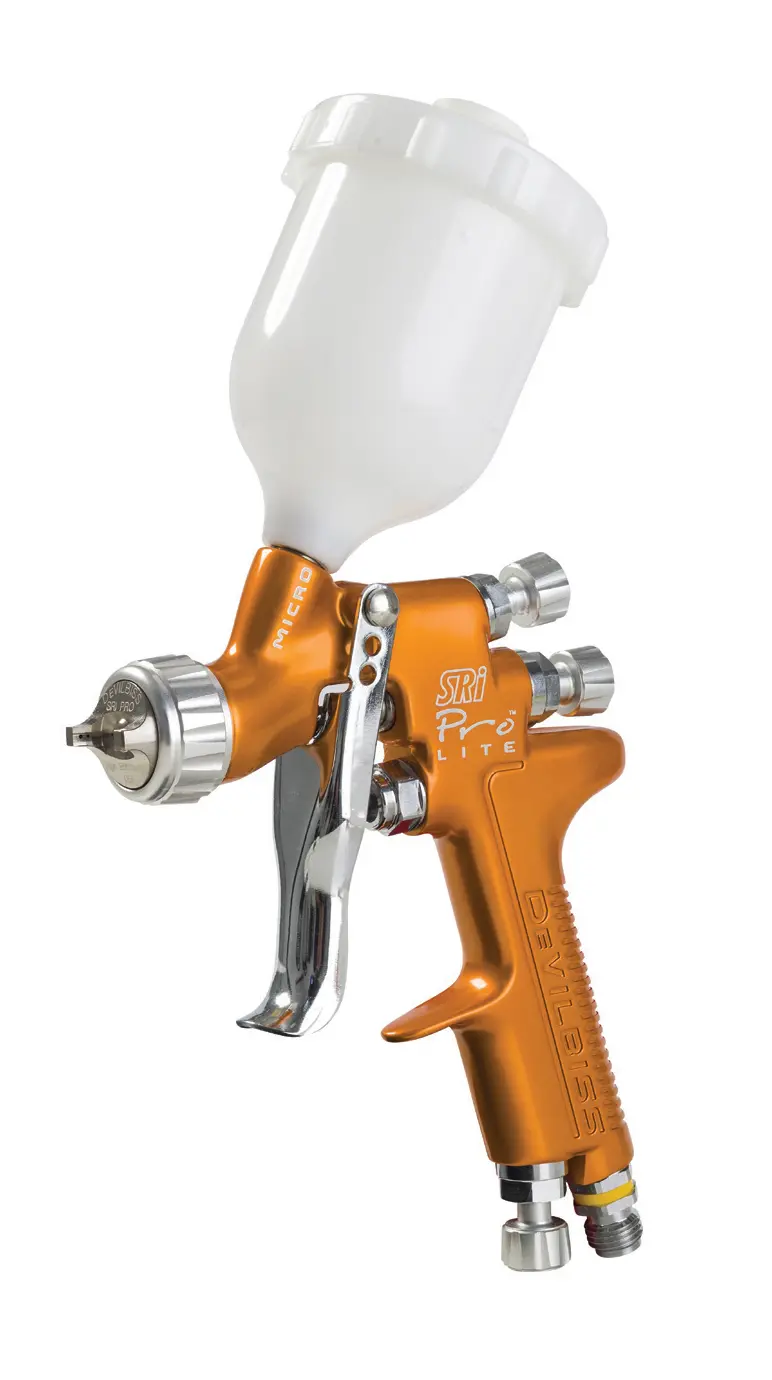 For the third product on our top three list, we are going to be leaving the GTI range and head on over to the SRI guns. The SRI Pro Lite is significantly more affordable than both the GTI's above. However, despite this, the SRI Pro Lite still manages to pack a huge amount of capability into its small lightweight body.
So don't let the price tag fool you, this is a serious product that can provide serious results.
DeVilbiss are a company that doesn't believe in sacrificing quality, even with their more affordable products. Once again the stunning burnt gold drop forged aluminium body is present on the SRI Pro Lite and is a genuine pleasure to behold. It's an incredibly lightweight gun considering its size, and due to this operator fatigue is kept to a minimum.
This is a spray gun that has been designed with the operator in mind, and is ergonomically designed to perfection. This enables the operator to have maximum precision and control with its superb balance and weight distribution.
The SRI Pro-Lite is one of our top picks for professionals in the finishing industries who work with localised detail or medium area work due to its excellent feathering capabilities. It features i-System Pro spray gun technology, which makes it perfectly adapted to professional micro, smart, and spot repair applications.
The TE-10, TE-20 and HV-30 caps we mentioned above are unfortunately not compatible with the SRI Pro Lite. However, the SRI Pro Lite has its own cap variations available that will suit most operator's needs.
The TE-5 air cap is undoubtedly the most popular choice and is available in 0.8mm and 1.0mm variations. The TE-5 range has started to amass a formidable reputation within the industry for its incredibly high efficiency. It's fully compliant and has a full and fast flow, making it perfect for solvents like basecoats, primers, and lacquers.
Conclusion
So there you have it, the top 3 DeVilbiss spray guns on the market in our opinion. As you can see, there is a wide range of adaptability and capability just within these three different spray guns.
We feel that it's important to note that we have not listed the products on this page in any particular order. As such, we don't feel that any one of the three spray guns is better than any of the others. They are different products that have different applications.
Different guns will be better suited to different operators depending on their usual workflow. They are all winners, and we highly recommend them all. We can pretty much guarantee that any of the spray guns we have discussed on this page will turn out to be a wise investment.
We hope that by now you should have a slightly better idea about DeVilbiss and their incredible range of spray guns. If you have any more questions or are unsure about anything we have mentioned on this page, why not give us a call on 023 8025 1100.
Our highly trained sales advisors live and breathe our products and will be happy to help you find the perfect spray gun for your needs.
If you're unsure of which route to take with your next spray gun, have a read of our Anest Iwata Spray Gun Buying Guide or click here to shop all professional spray guns.