BEST Finique (formerly known as BEST Products) have just launched the latest addition to their PPE (personal protection equipment) which they claim is a next generation respiratory Smart Dust Mask. Promising advanced protection with supreme comfort, this mask has already triggered a hullabaloo in the competitive PPE market.
Dust masks have been slow to keep up with the technological advances seen in coveralls and other protective clothing goods. BEST along with their European distribution partner Direct Tool Company identified a requirement for premium quality respiratory masks that don't break the bank and acted swiftly to come up with a practical solution.
Ideally suited to the finishing industry, BEST Finique worked in unison with key accounts throughout the Marine, Automotive and Composite manufacturing industries to perfect this carefully engineered breathing solution.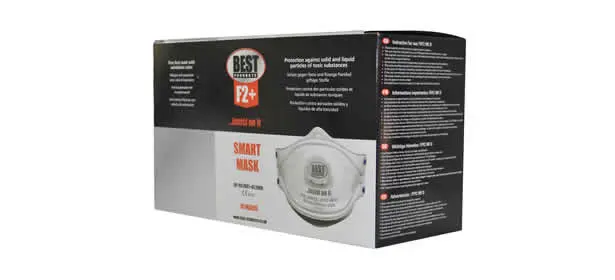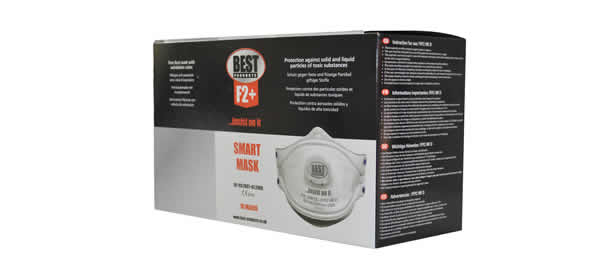 Tackling previous complaints of discomfort, BEST invested significantly in research and development for the new P2 valved respirator and included key features such as a comfort nose shaper which sits on the inside of the velvet soft inner web which is designed to offer a better fit and maximum comfort. An innovative Super Cool valve was designed to offer lower breathing resistance, less heat build-up in warm and humid conditions and a low profile to minimise any obstruction of vision. Another key feature of the P2 dust mask is the bonded head strap which contains no staples and assures a longer product life.
The F2+ Dust Mask is designed to protect from fine dusts for both solid and liquid particles of toxic substance. Conforming to EN149:2001 + A1:2009 requirements, the comfy dust mask is suited for operation within most paint shop operations for both dusty preparation procedures and protection from hazardous paint fumes.
Packed neatly in handy boxes of 10, the masks are also individually sealed to prevent contamination and ensure hygiene. This also ensures the masks can be safely stored when not in use and will maximise the use of each product.
Designed for use in paint shops and cleanrooms working with typical hazardous products such as adhesives, primer and base coats to name a few. The respiratory mask is suitable for a whole host of industries involved in finishing procedures including and not limited to: aviation paint shops, automotive accident repair centres, commercial vehicle paint shops and locomotive finishing workshops.
To summarise, the latest dust mask from BEST delivers in all areas and is competitively priced in comparison to other popular branded alternatives.
About BEST Finique
BEST Finique are a relatively young brand of high end surface finishing consumables tailored for usage in a multitude of surface finishing industries, from superyacht builders to aerospace part manufacturers and everything in between. BEST continue to expand their prevalent range of consumable products to the market at extremely competitive prices.