Spray booths can offer a faster and safer way to apply paint to anything from cars to furniture, but keeping it clean is no simple chore. If you have a spray booth, it is important that you learn all you can about cleaning it properly. The more information you get, the easier it will be to maintain this area without any unnecessary hassle or issues. This article will tell you everything you need to know about cleaning a spray booth.
Inspect the Area
You will first need to take a look at the spray paint booth so you can get an accurate idea as to how much work you will need to put in to thoroughly clean it. Even those who clean their spray booths after each use will still want to take a close look at the edges and corners. You should also know which type of paint you used in the booth so you can choose the most effective cleaning method.
Prepare the spray booths
Next, you will need to seal the room thoroughly, making sure that any grates or vents are completely closed. If you have an automatic spray booth, you need to ensure that the power supply is off prior to getting started. Those who have a particularly large spray booth for painting commercial vehicles or other structures will need to turn off any fans beforehand so cleaning won't be any harder than necessary.
Clean Off All Surfaces
Put on protective gloves when you are cleaning off any surface in your spray booth. You can use a small brush to clean off most surfaces. If you need to clean up water-based paint, you can mix together a paint-removing product and water for an effective way to get it off.
Start at the top of the booth and go down. Make sure that you wet the brush instead of the surfaces themselves. Apply water to each surface once you are done cleaning so the paint will be fully removed.
If you have some particularly stubborn areas of paint, use a higher amount of paint-remover solvent. Those with larger spray booths will need to use a pressure washer to ensure maximum efficiency.
You also want to wear a face mask so you don't inhale any of the vapour that comes off in the cleaning process. The edges, as well as corners, can be tricky, so make sure you pay special attention to them.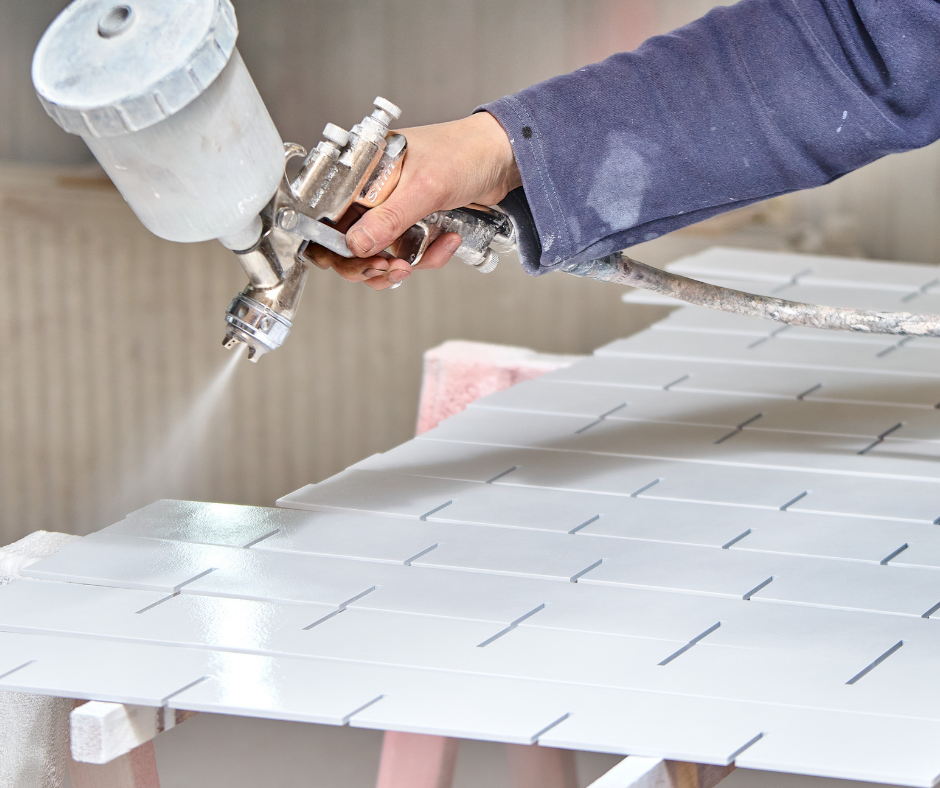 Keeping Your Accessories Clean
You will also need to make a point of keeping the smaller objects in the booth clean, which can be a bit tricky. Remove each spray nozzle individually if you can. A cloth can effectively clean air filters as well as vents and fans to guarantee proper ventilation.
Tips for Keeping Your Spray Booth Clean
There are some key tips that you will need to follow when it comes to keeping your spray booth clean. These tips can save you a lot of hard work later on, so it is important to follow them. There are plenty of training programs online that can help you out!
Protect Against Dust
One of the best ways to make cleaning your paint booth easier is to keep dust out. You can do this by keeping the doors of your booth closed. When you are ready to bring in whatever you need to spray, you should have the booth extraction already active. This will remove any contaminants in the air into your exhaust filters.
You also should never leave any items in the booth that you don't absolutely need. It's never a good idea to sand anything in the booth because cleanup will be a nightmare. If you have to do any sanding, do it in another area. Make sure that the object is prepared and ready to be sprayed before you even go into the room.
Choosing and Changing Filters
While you might want to save some money by getting cheap filters for your spray booth, it's never a good idea. The cheaper filters almost always cause problems with putting a quality finish on an object.
High-quality air filters work more efficiently and will help keep the airflow in your booth consistent. You should ideally use the filters that your booth's manufacturer recommends.
Anyone who wants to make cleaning their spray booth as easy as possible will need to replace their filters when necessary. Waiting to replace your filters can make a lot of extra work, which is why it's so important to change them out routinely. When you reach final resistance in your booth, replace your filters.
A majority of filters are designed to last through a number of hours of use, and it's important that you know what this number is when choosing yours. This can be an accurate way to know whether or not it's time to change your filters. Those who have two paint booths they use will go through their filters twice as fast.
You can find the best equipment on our website.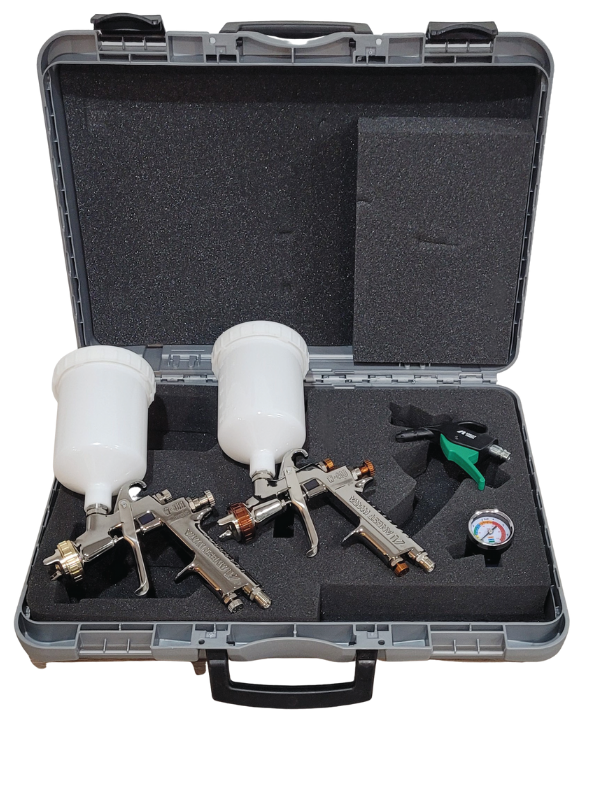 The best way to preserve your air filters is to maintain the quality of air inside the booth. The more you cut down on unnecessary dust and debris, the longer your filters will last. Some people go through filters very quickly because of the paint they are using. If you are using very heavy paint, you might want to think about switching to a different kind.
The longer your filters last, the more money you will save and the less work you will have to do. Always keep the filters in your workshop up to date to ensure that your workspace remains as clean as possible. Filters that are clogged up won't be able to effectively remove chemical contagions, so you will need to keep that in mind.
Using a Vacuum to Clean Your Booth
If you are planning to use a vacuum to clean certain areas of your booth, you need to be very careful. The vacuum's motor generates quite a bit of heat, and it could spark with the flammable materials you are cleaning up with it. Make certain that you use a vacuum that is specifically designed for this type of cleaning.
Pay Attention to Moisture
While it's true that dust and paint overspray are concerns when it comes to keeping a spray booth clean, moisture can also be a problem. The spray guns and gun washers you use require air to function, so you need a compressed air system.
This can lead to a buildup of moisture, which can cause all sorts of issues. Refrigerant dryers are a good solution when it comes to combating this particular problem. You will need to look for a system that works well consistently, and you'll have to maintain it for maximum effectiveness.
Consider Using a Professional
Sometimes it is a good idea to hire a professional to help you with cleaning your spray booth, especially if you don't have the proper equipment to get the job done yourself. There is absolutely nothing wrong with hiring others to do this work.
These professionals can provide you with the meticulous cleaning services you need to make your spray booth sparkle. This type of cleaning can be quite dangerous, which is just one of the reasons to think about hiring professionals.
Choosing a Cleaning Solvent
There are many different solvents that you can use to clean your spray booth, so you will need to choose the right one. Look for solvents that have a hydrocarbon base, as they tend to work best.
If you want to reduce the amount of solvent you need to use, clean off-dry paint before starting. The most effective way to cut down on solvent use is to protect your equipment from paint in the first place.
Water-based cleaners are another good option to look into. These products are specifically made to reduce VOC content without having to sacrifice your high cleaning standards. After you apply one of these solvents, you will rinse the area with low-pressure water. You can use a brush to speed up this process. All of the residential waste will simply go through the floor grates.
Mechanical Cleaning Methods
Water blasting is one of the most common mechanical methods of cleaning a spray booth, though tools like chisels, putt knives, scraps, rags, squeegees and brushes can also be effective. These tools can be good to have around for getting at corners and other awkward areas where paint sometimes gets.
A lot of people use water blasting as a primary method of cleaning spray booths because it works so well. The water is sprayed at anywhere from 5,000 to 10,000 psi, which can effectively remove paint quickly.
If you are going to use water blasting to clean your spray booth, you will need to decide which configuration to use. There are spin jet floor grate configurations as well as ones that use piping systems with lances. In order to choose the best method of cleaning, you will need to factor in the size of your spray booth and the kind of paint you are using.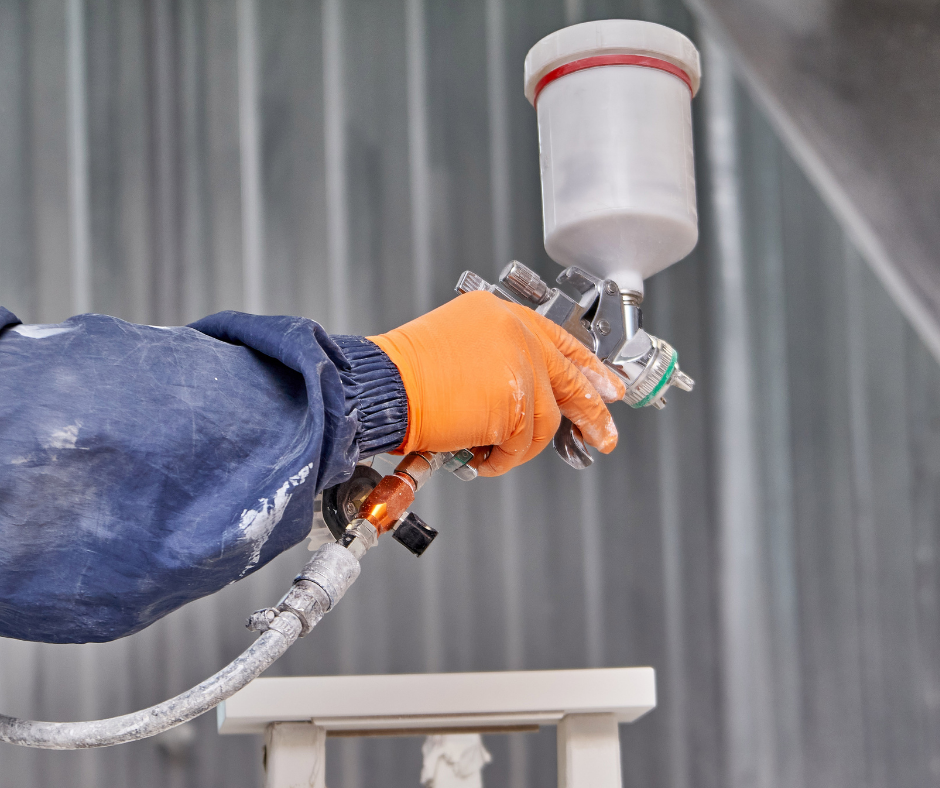 Related content of interest:
Essential Guide to Spray Booths
Exciting Spray Booth Innovations
DTC Completes XL Spray Booth Installation For Luxury Yacht Builder
7 Trips to Maintaining a Productive & Efficient Spray Booth
BAXT Launch New 5 Layer Spray Booth Wall Protector
The History of the Modern Day Spray Booth