The onset of remote working has impacted us all in recent weeks, and will certainly influence the way in which we all work going forward. Potentially even becoming the new norm.
For certain jobs, especially within industry, it has and will continue to prove a significant challenge.
Businesses in the marine, aerospace, composite and automotive markets, operating factories and warehouses, have had to adapt at lighting speed – refining, optimising and implementing processes to reduce ongoing operational impact.
But how do you continue to guarantee smooth production while ensuring all your teams, whether they're working on site or remote, remain connected and working effectively?
Read below…
Stay Connected
Firstly, and most importantly, you need to ensure your teams throughout the business remain connected.
To keep teams connected, collaborative and in sync, you're going to need collaboration software.
Implementing collaboration software enables teams to stay connected while remote and continue to collaborate effectively on projects, tasks and business critical processes – retaining business efficiency and workforce productivity.
The three core areas of functionality for collaboration tools are communication, project & task management and file sharing & management.
These can include video conferencing, real-time messaging, cloud storage and community platforms.
To find out what tool, or combination of tools, would best suit your business and your requirements, we found a great article covering the top rated collaboration tools, their uses and individual benefits:
https://www.trustradius.com/collaboration
Expel Supply Chain Complexities
Complexities in your supply chain, or a single broken link can result in vast, ongoing complications in your production.
Your business needs a reliable supply of production critical product. By taking the opportunity to review your suppliers, their capabilities and ability to manage the unexpected, you're able to mitigate against possible future disaster – ensuring limited impact on your production as a result.
Ask questions like… How are they prepared to deal with the unexpected? Or, do they have adequate procedures in place ensure your supply isn't compromised?
This will help you to secure suppliers and the product your business needs to ensure continued, efficient production with minimal downtime.
Future-Proofing Production
Efficiency, decreased costs, increased output and quality, and importantly, reduced reliance on manual labour.
These are just some of the benefits that intelligent and flexible automation can provide in normal circumstances, which at this current moment, are doubly true.
In an unexpected crisis, the more self-sufficient production processes are, the less they'll be affected by changes in circumstance, such as a sudden shift in the availability of the workforce or skilled labour shortage.
"Future-proofing starts with a clear vision for how digital production and automation will deliver a competitive advantage, along with a phased road map for implementation based on a business case in which technology is the enabler rather than the driver of change." McKinsey & Company.
Use the current situation as an opportunity to strategise and plan how you can move your business a step closer to industry 4.0. How can you make processes and procedures more efficient? What can be optimised?
Adapting today allows you to be more resilient tomorrow.
Digitalise To Mobilise
Whether it be taking notes from a meeting, managing stock levels and taking stock orders or scribbling down business ideas, paper is commonly the faithful medium we turn to in order to record and note important information on the go.
After all, paper-based processes are still widely regarded as the norm.
But we know they're not the most efficient or effective.
A reliance on manual and paper-based processes can hinder your ability to deliver more value and increased output at greater quality.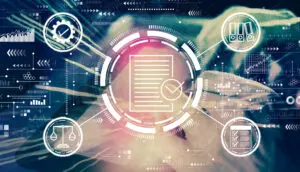 Studies show that the supply chain, procurement and finance functions spend almost a third (31%) of their time dealing with manual and paper-based processes. That's a lot of lost time.
Implementing a smart IT ecosystem enables a business to introduce software automation, alleviating employees from time-consuming and laborious tasks such as admin and reporting duties, freeing them up to focus on process innovation and continuous business improvement.
Furthermore, digitalising your business processes, whether that be introducing software automation or enabling work to become mobile, helps to eliminate the need for employees to continually return to a workstation or computer to input information. Allowing them to become more efficient and transition from being reactive to predictive.
Streamline Internal Processes
With a limited workforce currently available, by reviewing internal processes today, you can effectively identify and optimise manual, labour intensive processes – freeing your team and powering their productivity.
With the DTC Hub, you can remove all the hassle from your stock management and production product ordering processes.
Save time. Save money. Save the hassle.
Available online, on desktop and on the app, the DTC Hub is easily accessible wherever you, or wherever your team may be. From the office, storeroom, workshop or from home, place product orders, manage your stock and track product consumption with ease.
With a host of features, all designed to help your business overcome its unique stock management and ordering challenges, you're free to focus on the more important business matters while ensuring your team are connected and production remains smooth.
To discover more about how the DTC Hub can help streamline manual, labour intensive processes at your business click here.