In 2019, DTC completed a number of successful installation projects for customers across a range of industries. We pick our best 3 case studies and explain the benefits experienced by each business.
1 – TWO DUST EXTRACTION PREP BOOTHS FOR LEADING GRP MOULDING COMPANY

Dust had long been a pain point for the various busy workshops at the site. From cutting, prepping to finishing, fibreglass dust was prevalent and polluting the workshop.
DTC recommended two downdraft dust extraction booths with rear extraction and curtains fitted to side and front for added flexibility. The proposed booths were of a size sufficient for handling most of the larger parts being manufactured. The Velcro curtains in place of traditional booth walls allow the occasional abnormally large or awkward parts to be positioned partially within the booth and manoeuvred as necessary to maximise extraction.
With 16000m³ per hour airflow, the built for purpose booths are able to instantly remove airborne particles from the booth which maintains clear visibility, improving production efficiency. The DTC projects team successfully sourced, customised and installed the two booths, on time and on budget.
Compressed air outlets were installed to allow for easy access for pneumatic air tools and enhanced overhead lighting was selected for improved visibility and safety.
2 – EXTENSIVE DUST EXTRACTION INSTALLATION TO COWES BASED MANUFACTURING FACILITY
A busy boat manufacturing centre on the Isle of Wight identified a need to improve their dust and fume extraction systems to keep up to date with the introduction of advanced composites and fibreglass, particularly carbon fibre.
DTC approached the project from a completely new angle, citing the on-tool extraction as priority to address the dust issue at source, thus reducing the need to handle airborne dust. DTC then conducted a number of on-site demonstrations and workshops. This engaged the technicians, identified the key challenges and started to highlight which products would resolve the dust issues in the most cost-effective way.
ATEX rated high-velocity overhead extraction system was installed to serve all machine tools in the clean room. The overhead vacuum drops were positioned adjacent to the machine tools, eliminating the need for hoses on the floor and the trip-hazard this brings. Dust particles are now removed from the table saw, bandsaw, belt finisher, chopsaw and bench mounted discsander by the ATEX filtered extractor outside of the clean room.
"Our new cleanroom and workshop allows us to safely introduce advanced composites to our manufacturing processes, we're excited to see what this brings and are thankful for DTC's support." explained the general manager of the site.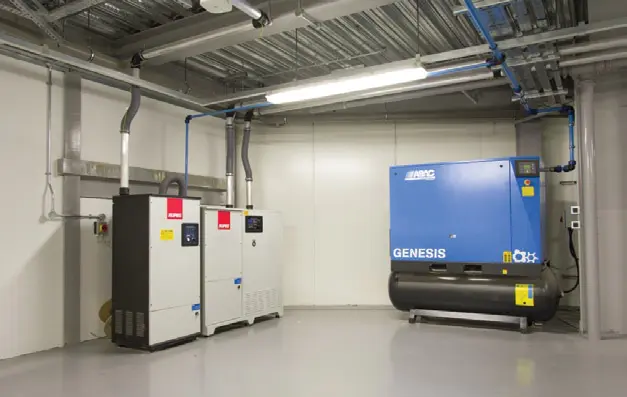 3 – AIR SUPPLY AND DUST EXTRACTION SYSTEMS TO YACHT RACING TEAM
DTC supported a yacht racing team to fit out a brand-new, purpose-built manufacturing facility.
This included the supply, installation and commissioning of an integral dust extraction system and incorporated the installation of an air supply system.
The base where the large yacht racing team repair and improve the fleet of high-speed catamarans can have over 20 engineers/designers working at one time. This number of people carrying out tasks such as cutting, sanding and grinding produces large quantities of harmful air pollutants.
As it was a new build project, the client had many other facets of the job to co-ordinate and this smaller part was something they needed to delegate. DTC was able to provide a truly turnkey solution managing the whole programme and ultimately delivering the desired outcome on time and within budget.
[/vc_column_text][/vc_column][/vc_row]