A large manufacturer of construction machinery in the midlands got in touch with DTC when they needed to update the three spray booths in their factory. DTC were tasked with improving the lighting and making the area easier to keep clean.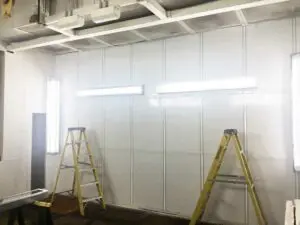 The old spray booths were hampering productivity by being dark and difficult to maintain, so the manufacturer asked DTC to help improve the situation. DTC has supplied the painting and coatings industry for many years and knew the right solution.
New LED fittings replaced the old gloomy fluorescent lights. These were fitted in the place of the old lights, meaning disruption to the spray booth was minimised. The LED lights made an immediate impact, making the booths much brighter. The switch to LEDs also means the lighting is more energy-efficient and therefore more environmentally friendly and will have lower running costs.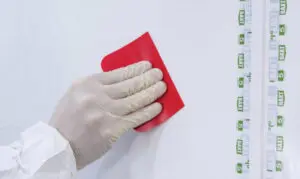 In addition to the updated lighting system, DTC fitted the BAXT WP10 wall covering. This cleaned up the appearance of the spray booth walls and will make them easy to maintain in the future. In the past, there would be a lot of disruption to production as the booths were washed down, but the WP10 system is a disposable wall covering which removes this need. It is made up of 5 layers so it only needs to be applied once and then the layers can be peeled back one at a time, leaving a clean, fresh surface every time.
The result is that the spray booths have been made into a more pleasant working environment as well as more efficient. The brighter conditions mean monitoring spray finish is easier, and downtime for cleaning the booths is reduced.
Find out more about the BAXT WP10 Wall Covering